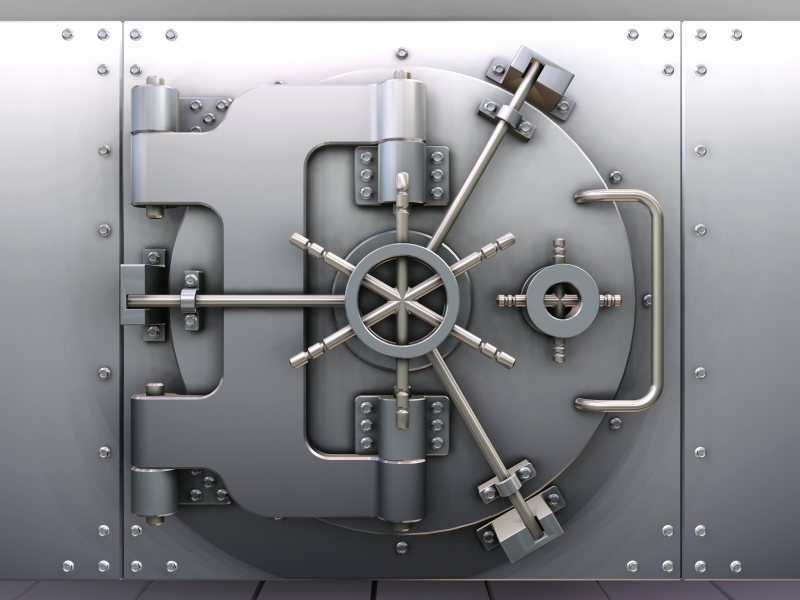 KWallet, Qt5, Crypto++, Systray
Here is code to store encrypted strings in KWallet (Qt5/c++) AES using Crypto++. This program stores the a secret key in the KWallet application. The key is encrypted using AES with a key derived from a hash of the user supplied password. The password is not stored. If the user forgets or misplaces their password, the secret key is not accessible. When the software is started, the user is prompted for the password. After the key is retrieved from the KWallet wallet file and decrypted, the key is retained as long as the program is running.
When the program is started it minimizes to the System Tray on the Desktop. Right-click the Application Icon for options.
mainwindow.h
#ifndef MAINWINDOW_H
#define MAINWINDOW_H

#include <QMainWindow>
#include <QSystemTrayIcon>
#include <KWallet>

QT_BEGIN_NAMESPACE
namespace Ui { class MainWindow; }
QT_END_NAMESPACE

class MainWindow : public QMainWindow
{
    Q_OBJECT

public:
    MainWindow(QWidget *parent = nullptr);
    ~MainWindow();

private slots:
    void onShowHide();
    void onShowHide(QSystemTrayIcon::ActivationReason reason);
    void onExit();
    void walletOpened(bool ok);
    void mission();

private:
    Ui::MainWindow *ui;
    QString randstr(void);
    KWallet::Wallet *m_wallet;
    QString sk;
    void createTrayIcon();

    QSystemTrayIcon *m_tray_icon;

};
#endif // MAINWINDOW_H

mainwindow.cpp
#include "mainwindow.h"
#include "ui_mainwindow.h"
#include <string.h>
#include <string>
#include <QSystemTrayIcon>
#include <QIcon>
#include <QAction>
#include <QTimer>
#include <KWallet>
#include <QInputDialog>
#include <cryptopp/cryptlib.h>
#include <cryptopp/aes.h>
#include <cryptopp/hex.h>
#include <cryptopp/ccm.h>
#include <cryptopp/sha.h>
#include <cryptopp/osrng.h>
#include <cryptopp/modes.h>
#include <cryptopp/filters.h>
#include <QDebug>
#include <QMessageBox>
#include <QDateTime>

MainWindow::MainWindow(QWidget *parent)
    : QMainWindow(parent)
    , ui(new Ui::MainWindow)
{
    ui->setupUi(this);

    m_wallet = KWallet::Wallet::openWallet(KWallet::Wallet::NetworkWallet(), winId(), KWallet::Wallet::Asynchronous);
    createTrayIcon();
    QTimer::singleShot(250,this,SLOT(hide()));
    connect(m_wallet, &KWallet::Wallet::walletOpened, this, &MainWindow::walletOpened);
}

MainWindow::~MainWindow()
{
    delete ui;

}

QString MainWindow::randstr(void)
{
    QString ret;
    int d = 256+rand()%119;
    for (int i=0;i<(d);i++)
    {
        if ((rand() % 100)>50)
        {
            char cch = 'A' + rand()%26;
            ret += cch;
        } else {
            ret += QString::number(rand()%10);
        }
    }
    return (ret);
}

void MainWindow::createTrayIcon()
{
    m_tray_icon = new QSystemTrayIcon(QIcon("22solar.png"), this);

    connect( m_tray_icon, SIGNAL(activated(QSystemTrayIcon::ActivationReason)), this, SLOT(onShowHide(QSystemTrayIcon::ActivationReason)) );

    QAction *quit_action = new QAction( "Exit", m_tray_icon );
    connect( quit_action, SIGNAL(triggered()), this, SLOT(onExit()) );

    QAction *hide_action = new QAction( "Show/Hide", m_tray_icon );
    connect( hide_action, SIGNAL(triggered()), this, SLOT(onShowHide()) );

    QMenu *tray_icon_menu = new QMenu;
    tray_icon_menu->addAction( hide_action );
    tray_icon_menu->addAction( quit_action );

    m_tray_icon->setContextMenu( tray_icon_menu );

    m_tray_icon->show();

}

void MainWindow::onShowHide()
{
    if( isVisible() )
    {
        hide();
    }
    else
    {
        show();
        raise();
        setFocus();
    }

}
void MainWindow::onShowHide(QSystemTrayIcon::ActivationReason reason)
{
    if( reason )
    {
        if( reason != QSystemTrayIcon::DoubleClick )
        return;
    }

    if( isVisible() )
    {
        hide();
    }
    else
    {
        show();
        raise();
        setFocus();
    }
}

void MainWindow::walletOpened(bool ok)
{
    if (ok &&
        (m_wallet->hasFolder("RelaxEscrow") ||
        m_wallet->createFolder("RelaxEscrow")) &&
        m_wallet->setFolder("RelaxEscrow")) {
        ui->msgLog->setPlainText("Wallet Loaded.");

        QByteArray be;
        bool decrypted = false;
        sk = "";
        if (m_wallet->hasEntry("sk"))
        {
            m_wallet->readEntry("sk",be);
            if (!be.isEmpty())
            {
                if (m_wallet->hasEntry("iv"))
                {
                    bool dok;
                    QString text = QInputDialog::getText(this, "Password For Decryption", "Enter the password to decrypt the Stellar Secret Key", QLineEdit::Password, "", &dok);
                    if (dok && !text.isEmpty())
                    {

                        std::string encoded = QString(be).toStdString();
                        std::string decoded;

                        CryptoPP::HexDecoder decoder;
                        decoder.Put((CryptoPP::byte*)encoded.data(), encoded.size());

                        CryptoPP::word64 size = decoder.MaxRetrievable();
                        if(size && size <= SIZE_MAX)
                        {
                            decoded.resize(size);
                            decoder.Get((CryptoPP::byte*)&decoded[0], decoded.size());
                        }

                        QByteArray ivbe;
                        m_wallet->readEntry("iv",ivbe);
                        if (!ivbe.isEmpty())
                        {
                            std::string iv_encoded = QString(ivbe).toStdString();
                            std::string iv_decoded;


                            CryptoPP::HexDecoder iv_decoder;
                            iv_decoder.Put((CryptoPP::byte*)iv_encoded.data(), iv_encoded.size());

                            CryptoPP::word64 iv_size = iv_decoder.MaxRetrievable();
                            if(iv_size && iv_size <= SIZE_MAX)
                            {
                                iv_decoded.resize(iv_size);
                                iv_decoder.Get((CryptoPP::byte*)&iv_decoded[0], iv_decoded.size());
                            }


                            const unsigned char *sequence = NULL;
                            sequence = (unsigned char*)qstrdup(text.toUtf8().constData());

                            CryptoPP::byte digest[CryptoPP::SHA1::DIGESTSIZE];
                            CryptoPP::SHA1().CalculateDigest(digest, sequence, strlen((char*)sequence));

                            CryptoPP::byte key[CryptoPP::AES::DEFAULT_KEYLENGTH];
                            std::memcpy(key,digest,sizeof(key));

                            CryptoPP::byte iv[CryptoPP::AES::BLOCKSIZE];
                            std::copy(iv_decoded.begin(), iv_decoded.end(), iv);

                            std::string plaintext;

                    try {

                            CryptoPP::CBC_Mode<CryptoPP::AES>::Decryption d;
                            d.SetKeyWithIV(key, sizeof(key), iv);
                            CryptoPP::StringSource s(decoded, true,
                            new CryptoPP::StreamTransformationFilter(d,
                            new CryptoPP::StringSink(plaintext)
                            ));


                            CryptoPP::StreamTransformationFilter filter(d);
                            filter.Put((const CryptoPP::byte*)decoded.data(), decoded.size());
                            filter.MessageEnd();

                            const size_t ret = filter.MaxRetrievable();
                            plaintext.resize(ret);
                            filter.Get((CryptoPP::byte*)plaintext.data(), plaintext.size());

                            }
                            catch(const CryptoPP::Exception& e)
                            {
                                QMessageBox msgBox;
                                msgBox.setText(e.what());
                                msgBox.exec();
                                exit(1);
                            }

                            QString tsk = QString::fromStdString(plaintext);

                            sk = tsk.right(56);
                            if (sk.left(1)=="S")
                            {
                                decrypted = true;
                            } else {
                                QMessageBox msgBox;
                                msgBox.setText("Could not decrypt secret key. Check password.");
                                msgBox.exec();
                                exit(1);
                            }
                            QTimer::singleShot(600000,this,SLOT(mission()));

                        }

                    }
                }
            }
        }

        if (sk.isEmpty())
        {
            bool dok;
            QString text = QInputDialog::getText(this, "Stellar Secret Key", "Enter the Stellar Secret Key for Escrow Account", QLineEdit::Normal, "", &dok);
            if (dok && !text.isEmpty())
            {
                sk = randstr() + text;
                text = QInputDialog::getText(this, "Password For Encryption", "Enter a password to encrypt this Stellar Secret Key", QLineEdit::Password, "", &dok);
                if (dok && !text.isEmpty())
                {
                    CryptoPP::AutoSeededRandomPool rnd;
                    CryptoPP::byte digest[CryptoPP::SHA1::DIGESTSIZE];
                    const unsigned char *sequence = NULL;
                    sequence = (unsigned char*)qstrdup(text.toUtf8().constData());

                    CryptoPP::SHA1().CalculateDigest(digest, sequence, strlen((char*)sequence));
                    CryptoPP::byte iv[CryptoPP::AES::BLOCKSIZE];
                    rnd.GenerateBlock(iv, sizeof(iv));

                    CryptoPP::byte key[CryptoPP::AES::DEFAULT_KEYLENGTH];
                    std::memcpy(key,digest,CryptoPP::AES::DEFAULT_KEYLENGTH);

                    std::string plaintext = sk.toUtf8().constData();
                    std::string ciphertext;

                    CryptoPP::CBC_Mode<CryptoPP::AES>::Encryption e;
                    e.SetKeyWithIV(key, sizeof(key), iv);
                    CryptoPP::StringSource s(plaintext, true,
                        new CryptoPP::StreamTransformationFilter(e,
                        new CryptoPP::StringSink(ciphertext)
                        )
                    );
                    CryptoPP::StreamTransformationFilter filter(e);
                    filter.Put((const CryptoPP::byte*)plaintext.data(), plaintext.size());
                    filter.MessageEnd();
                    const size_t ret = filter.MaxRetrievable();
                    ciphertext.resize(ret);
                    filter.Get((CryptoPP::byte*)ciphertext.data(), ciphertext.size());

                    std::string encoded;
                    encoded.clear();
                    CryptoPP::StringSource(ciphertext, true,
                    new CryptoPP::HexEncoder(
                    new CryptoPP::StringSink(encoded)
                    ));
                    QByteArray skba(encoded.c_str(), encoded.length());
                    m_wallet->writeEntry("sk",skba);

                    encoded.clear();
                    CryptoPP::StringSource(iv, sizeof(iv), true,
                    new CryptoPP::HexEncoder(
                    new CryptoPP::StringSink(encoded)
                    ));
                    QByteArray ivba(encoded.c_str(), encoded.length());
                    m_wallet->writeEntry("iv",ivba);

                }
            }
        }

    } else {
        ui->msgLog->setPlainText("Error Loading Wallet.");
    }
}

void MainWindow::mission()
{
    QDateTime now = QDateTime::currentDateTime();
    ui->msgLog->appendPlainText("\n"+QString::number(now.toSecsSinceEpoch()) + "\t"+sk);
    QTimer::singleShot(600000,this,SLOT(mission()));
}

void MainWindow::onExit()
{
        QApplication::exit();
}


pro file
QT       += core gui KWallet

greaterThan(QT_MAJOR_VERSION, 4): QT += widgets

CONFIG += c++11

# The following define makes your compiler emit warnings if you use
# any Qt feature that has been marked deprecated (the exact warnings
# depend on your compiler). Please consult the documentation of the
# deprecated API in order to know how to port your code away from it.
DEFINES += QT_DEPRECATED_WARNINGS

# You can also make your code fail to compile if it uses deprecated APIs.
# In order to do so, uncomment the following line.
# You can also select to disable deprecated APIs only up to a certain version of Qt.
#DEFINES += QT_DISABLE_DEPRECATED_BEFORE=0x060000    # disables all the APIs deprecated before Qt 6.0.0

SOURCES += 

    main.cpp 

    mainwindow.cpp

HEADERS += 

    mainwindow.h

FORMS += 

    mainwindow.ui

INCLUDEPATH += /usr/local/include
LIBS += -L/usr/local/lib -lcryptopp

# Default rules for deployment.
qnx: target.path = /tmp/$${TARGET}/bin
else: unix:!android: target.path = /opt/$${TARGET}/bin
!isEmpty(target.path): INSTALLS += target

DISTFILES += 

    escrow.png